Career Fields
We need employees across many different fields—from cyber to intelligence to data science.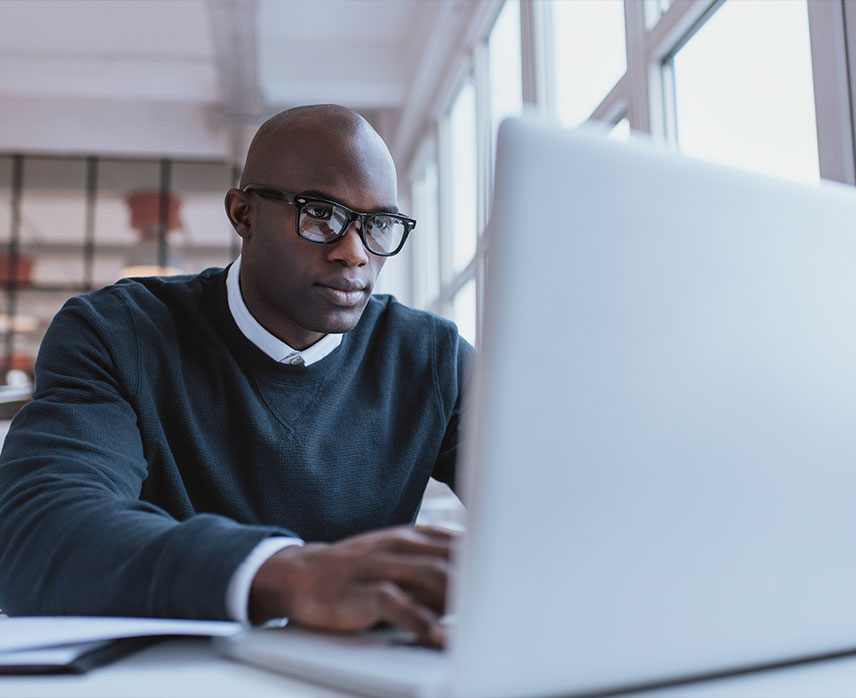 About NGA Careers
We need skilled and knowledgeable employees across many different fields—from cyber to intelligence to data science. We are committed to acquiring, developing and maintaining the proper technology, people and processes to help successfully meet our mission.
What career fields are in demand at NGA?
Our acquisition workforce provides critical support in many fields, including program managers, contract officers, IT specialists, system engineers, research and development scientists, facilities engineers and business support specialists. As an acquisition professional, you are part of the larger Department of Defense workforce and must achieve certification standards through the Defense Acquisition University. Certifications in acquisitions are competitive for other acquisition work across the Department of Defense and Intelligence Community.
Our acquisition workforce provides critical support in many fields.
Program managers
Contract officers
IT specialists
System engineers
R&D scientists
Facilities engineers
Business support specialists
You will collect, analyze and report intelligence that reveals the intentions of foreign governments and other entities on the front lines of the nation's defense. You will transform raw information into critical reports to understand intelligence issues within the United States and abroad. You will analyze complex situations under pressure, identify intelligence gaps, evaluate data from multiple sources, monitor trends and interpret events related to countries or issues.
Biology
Chemistry
Data science and analysis
History, government or political science
Intelligence
International affairs
Library sciences
National security studies
You will help the business of intelligence run smoothly. As part of our team, you will support an internal infrastructure as big as one of the top Fortune 500 companies. You formulate and execute budgets, develop and allocate workforce resources and help implement cost, finance and accounting policies. Start a career where you become a steward of taxpayer dollars, seeking the most significant return that money can provide—a superior intelligence service for the safety and security of our nation.
Accounting
Business administration
Economics
Finance
Management
As an intelligence collector, you will apply your exceptional interpersonal skills, high-level training and professional talents to collect intelligence from anywhere in the world. You may use your proficiency in a foreign language, or learn a new language, as part of this career. Persuasion, negotiation, interviewing and problem-solving are vital skills needed while working in ambiguous and unstructured situations.
Applied social sciences
History, government or political science
Intelligence
International studies
Library or information sciences
Communication professionals draft clear and compelling communication products and work with words and/or images, online and print publications, and know how to articulate ideas and craft communication products that tell a story. Whether your expertise is in visual communication, writing, editing or web development, you will use your skills to create internal and/or external communication products that successfully communicate the agency's mission.
Communications, public affairs or journalism
History, government or political science
Marketing
Publishing
Support services
Theater arts or arts design
Video production
Visual communications
NGA needs computer science experts who can solve complex problems, test innovative approaches and research new solutions to store, manipulate and present the information to agency leaders. You should know how to apply the theoretical models of computer science to complex system architecture and system software organization challenges and seek to create new standards for the transformation of information by applying your computer science expertise.
Computer engineering or science
Data engineering
Data science and analysis
Electrical engineering
Information assurance
Information systems
Information technology
Networking and security
Programming
As a cyber professional at NGA, you will work as part of a team on the frontlines to defend the nation against our cyber adversaries. We need cyber professionals with technical expertise and a driving desire to remain at the forefront of their field. You can help protect national security interests as part of the world's most advanced team of cyber professionals.
Computer engineering
Computer networking and security
Computer science
Information assurance
Information systems
Information technology
Programming
Do you enjoy helping people learn using state-of-the-art methods to develop and administer training courses and curricula that address the developmental needs of all employees? Not only will you create or distribute education and training, but you will also constantly review course content to ensure that our programs are up-to-date and that we are creating a learning environment conducive to each learner's success. You will keep our workforce at the forefront of their chosen field with a fulfilling career in education and training.
Applied social sciences
Education, training or instructional design
Human resources or human capital management
Support services
The NGA is seeking engineering and physical science professionals to create the systems and tools that enhance intelligence operations. You will work on scientific projects that include planning, designing and constructing specialized equipment, identifying and eliminating hazardous conditions and ensuring compliance to engineering and scientific standards and principles. There are multiple areas of focus, including computer, electrical, mechanical and structural engineering. We offer a wide range of opportunities in the physical sciences, including chemistry, biology and physics.
Computer engineering
Computer science
Engineering disciplines
Mathematics
Science fields
You might also be interested in positions in bathymetry, geodetic survey work, cartography and more.
If you have a passion for foreign languages, strong oral and written communication abilities and critical thinking skills, you may qualify for a career in foreign language analysis. You will work in research, translation, transcription, reporting and analysis. We need applicants who understand the nuance of foreign language, context, cultural overtones and regional dialects.
Foreign languages
Government, history or political science
Linguistics
Intelligence
International studies
Consider applying for a job where your contribution will have a positive impact on a global scale.
General administrative support professionals provide support to all key aspects of our mission. You will work closely with strategic and tactical leaders, manage projects and serve in staff officer positions. Administrative support positions help develop, explain and implement policy, identify problems and provide direct administrative and technical support to senior leaders.
Business management or administration
Social sciences
Support services
Consider putting your skills and education to work supporting the critical mission of the NGA.
Our employees operate in high-risk, high-stress and high-reward environments. Human resource professionals are involved in human resource management, including recruitment, job placement, employee benefits, compensation, job design, performance management and professional development. You will be a trusted strategic partner who supports a vital part of the Intelligence Community—our employees.
Applied social sciences
Business administration or management
History, government or political science
Human resources or human capital management
Law or legal support
Psychology or psychological services
Support services
Play a vital role in the development of the world's most advanced intelligence workforce.
If you specialize in designing and maintaining facilities and infrastructure, the Intelligence Community offers a wealth of opportunities. The NGA offers a variety of roles, including designing physical facilities, preparing engineering calculations and drawings and analyzing HVAC, air distribution and piping systems.
Automotive Service Excellence (ASE)
Engineering disciplines or physical sciences
Environmental health or industrial hygiene
Facilities management
Prepress technical apprenticing
Operations or logistics
Start—or continue—your career where the facilities are specialized to meet a critical mission.
As an inspection, investigation and compliance professional at the NGA, you support national security by examining facilities, equipment and procedures to ensure adherence to standards and making recommendations for improvement. Investigation professionals conduct detailed investigations, ranging from employment suitability to performing independent reviews of personnel-related incidents. Compliance professionals review numerous processes and procedures to ensure that all efforts adhere to the appropriate standards, rules and regulations.
Criminology
Criminal justice
Law or legal support
Physical security
The Intelligence Community operates in a highly complex arena governed by international and domestic laws, rules, regulations and standards. You will advise leadership and mission professionals on legal issues associated with intelligence operations. You will use your knowledge of the law and applicable standards to inform leadership and guide policymakers on the IC's legal issues today and in the future.
Active U.S. bar membership (for attorney positions)
Law or legal support experience or education
Paralegal certification
At the NGA, you will design and analyze complex algorithms, work on interdisciplinary teams to help co-workers tackle complex mathematical problems and express complicated cryptographic concerns in mathematical terms. We need people well-versed in number theory, group theory, finite field theory, linear algebra, probability theory, mathematical statistics or combinatorics. Expand your experience and put your skills to work for the good of the nation.
Data science and analysis
Mathematics or applied mathematics
Statistics
You might be interested in jobs in analytic methodology, data science or others at the NGA.
As a medical professional, you will perform a wide variety of functions, including medical evaluations, laboratory analyses or pharmaceutical care. Occupational health professionals ensure that conditions for employees are safe by evaluating work spaces to ensure conditions meet health and efficiency standards and amending issues that negatively impact an employee's health or ability to work. This includes helping provide counseling services to employees and family members in need of assistance.
Educated or experienced in environmental health or industrial hygiene
Educated or experienced in health care
Educated or experienced in psychology or psychological services
Licensed clinical psychologist
Licensed pharmacist
Licensed physician
Licensed professional counselor
Registered nurse
Student Internship assignments are entry-level professional jobs, which involve a great deal of independent and team-oriented work under the guidance of a supervisor and mentors.
If you perform successfully and meet the program requirements, we may invite you to continue in the program during your entire degree program, or we may offer you a permanent employment position upon graduation.
While the Intelligence Community works to protect the nation, our security and law enforcement officers work to protect the Intelligence Community. If you have a knack for uncovering hidden truths, you can work in personnel security, evaluating the character, background and history of employees and applicants. Or, you could apply your law enforcement skills to provide counterterrorism and force protection, critical incident management and vehicle, facility and material security inspections.
Cardiopulmonary resuscitation (CPR) training
Criminology or criminal justice education or experience
Department of Defense Polygraph Institute continuing education certificate
Military service
Physical security experience or education
Use your experience and education and apply for NGA positions in security and law enforcement today.
Imagine being able to identify anything on, above or beneath the Earth's surface using cutting-edge technology to provide real-time intelligence to U.S. warfighters or traveling to the site of a world crisis to offer geospatial products to humanitarian efforts. These are just some of the extraordinary everyday challenges of NGA, where talented, dedicated and driven professionals strive every day to meet the nation's national security and humanitarian needs.
Geospatial intelligence professionals
You will use statistics, remote sensing, mapping, charting, surveying and geodetic data to identify the geographic location and characteristics of natural or constructed features and boundaries on the Earth.
Imagery intelligence professionals
You will collect technical, geographic and intelligence information by interpreting or analyzing imagery and collateral materials.
Imagery analysts
You will collect and analyze satellite imagery to determine the likeness or presentation of natural or man-made features, related objects or activities and the simultaneously acquired position data.
Aeronautical science
Animation or art and graphic design
Astronomy
Cartography
Computer science
Geospatial information
Data science
Engineering
Environmental or earth sciences
Foreign area studies
Geodetic science
Geographic Information Systems (GIS)
Mathematics or statistics
Maritime transportation
Military air traffic control
Oceanography
Operations Research
Photogrammetry
Physics
Statistics
Imagery intelligence